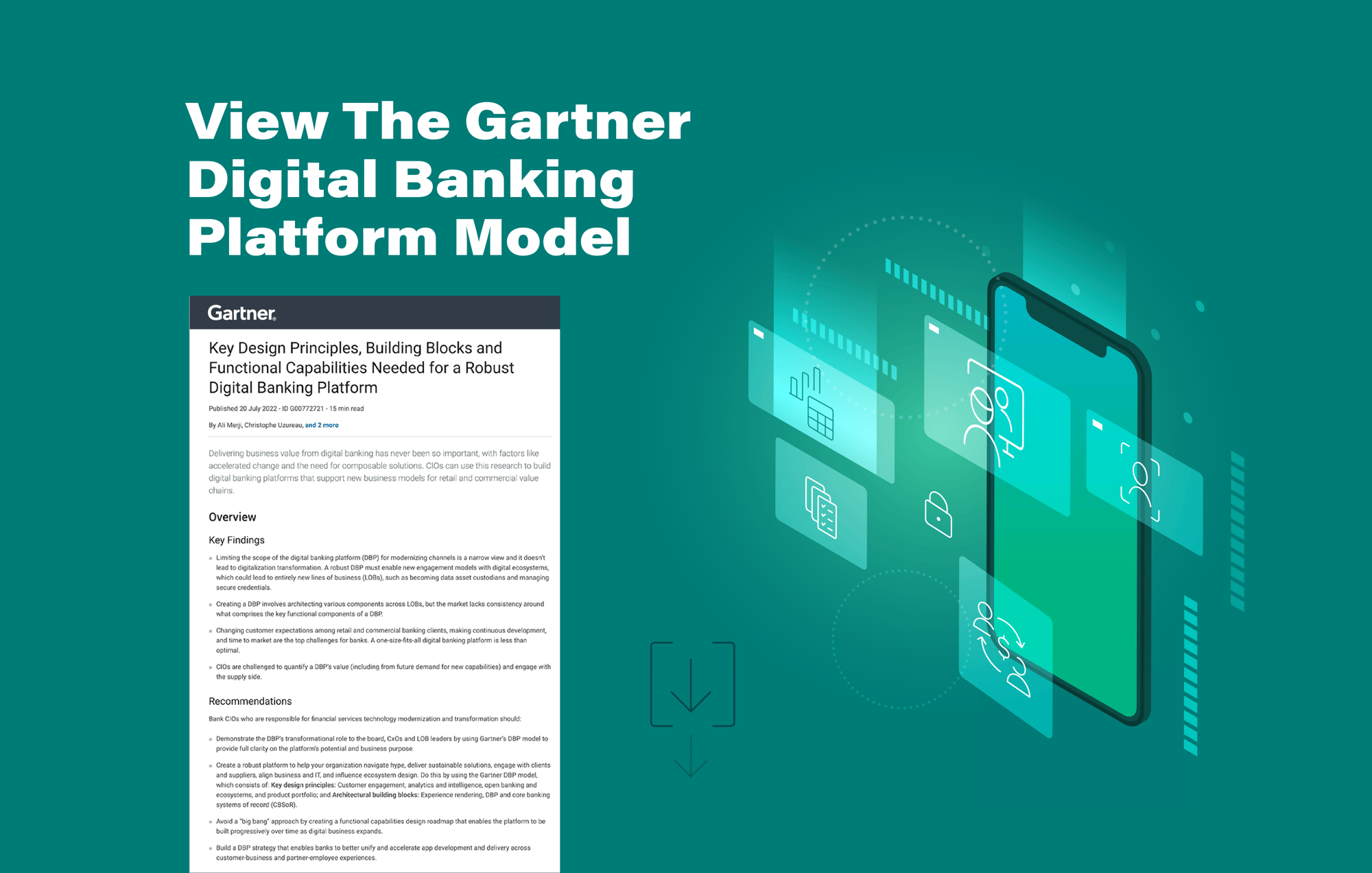 According to the Gartner®️ 2021 Legacy to Digital Platform Survey, "40% of survey participants' primary reason to design or invest in DPB was customer experience (CX) and user experience (UX) modernization."
Instead, Gartner analysts encourage financial institution technology and business leaders to turn to robust DBPs that can enable new engagement models with digital ecosystems. To help financial institution leaders develop a more comprehensive strategy, "Gartner created a DBP model – a set of design principles and key architectural building blocks – to:
Articulate both strategic intent and IT capability by acting as a common language to achieve business-IT alignment

Discover new use cases and even consider the creation of new LOBs

Highlight guiding design principles that will ensure the DBP demonstrates sustainable business value

Get more granular in defining platform components and their level of priority according to business requirements

Map functional capabilities with tools and technology solutions that support them so that the supply side must clarify their real expertise and propose a relevant roadmap




To read more Gartner recommendations on addressing the challenges with current DBP expectations and approaches, CLICK HERE for complimentary access to this report.

1 Source: Gartner Report: Key Design Principles, Building Blocks and Functional Capabilities Needed for a Robust Digital Banking Platform, Ali Merji, Christophe Uzureau, Don Free, Jeff Casey, 20 July 2022. GARTNER is a registered trademark and service mark of Gartner, Inc. and/or its affiliates in the U.S. and internationally and is used herein with permission. All rights reserved.
About iuvity
iuvity has been transforming the industry for 20+ years through proven digital banking solutions and a flexible open services platform, helping banks, credit unions, and fintechs deliver secure, modern online experiences to 21M users worldwide.